If you're recently looking to gain a few contracts for filming Toronto wedding videos then you need to be at the top of your game. Unfortunately, the best of camera kits won't get you to be customer favorites but it's how well you can gell with your clients.
So, if you're looking for tips to be a customer favored wedding cinematographer, this blog can help!
In fact,
Check Out these 4 Credible Tips to Shoot a Glamorous Wedding Video

Communication is the Key
When it comes to filming an authentic wedding video, remember communication is the key. First, sit down with the bride and groom and discuss what they want to include in their Toronto wedding videos. Ask them of potential choreographed dances, surprise highlights like the bride wearing her ancestral ring, etc. to understand the type of things you need to include in the wedding video.
Additionally, contact the venue beforehand, and understand the flexibility of your filming. For example, often certain churches do not allow videos to be taken in specific locations. If such a case arises, you need to be equipped with zoom in lenses to film important portions.
Further, make friends and contact the vendors who will be providing stalls at a wedding. These vendors can be your gateway ticket to more contracts as these people offer stalls at various weddings.
Have Backup for Audio
Audio backup is very essential when it comes to filming Toronto wedding videos. What's the point if your camera cannot capture the bride's 'i do' moment. Hence, unless your video cam has excellent sound capturing ability to ensure that you have a lavalier microphone on the groom.
However, note that to install your equipment you need to contact a DJ in advance so that you can install your equipment in their soundboard.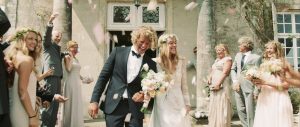 Stay Fast on Your Feet
To ensure that you capture the best Toronto wedding videos, remember it's best to be fast. Therefore, carry as less equipment as possible to run around filming moments. Remember, the day of the wedding, the groom usually hangs out with his men, while the bride and the bridesmaids get ready in all their glory, and then the wedding commences.
This means you'll be tasked with finding intrinsic moments to capture and hence, carry formatted memory cards, batteries, and chargers at all times to make sure you film everything significant.
Capture Traditional Shots
Contrary to popular belief, traditional shots never lose their charm when it comes to wedding videos. So, check out typical wedding shots like the groom putting the ring on the bride, the rice throwing ceremony, the groom kissing the bride etc.
These will capture the true essence of a wedding, along with intimate moments of the couple, which they can look back in fond remembrance.
So, apart from these tips, while shooting your Toronto wedding videos, make sure to keep the camera stable to get the best shots. Additionally, ensure that you have adequate equipment to film in low light scenarios.
If you master all these above tips, you'll surely get numerous wedding contracts in Toronto soon. Good luck!